Beall Brewery Insurance is proud to be a sponsor of the 32nd Brewers Association Craft Brewers Conference and BrewExpo America, taking place April 14-17 in Portland, Ore.
The Beall Brewery Insurance team will attend the event, connecting with the approximately 11,000 brewing industry professionals in attendance, and sharing information about Beall's customized insurance packages for craft breweries, microbreweries, and brewpubs.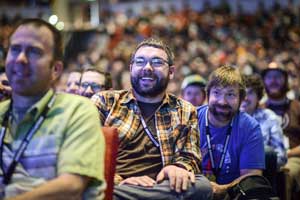 As a seminar room sponsor, Beall Brewery Insurance will host a table inside the room where representatives of packaging breweries will attend educational seminars. Attendees will be able to pick up Beall Brewery Insurance stickers, koozies, and stylus/ pen/ LED flashlights, as well as information about the comprehensive, customized insurance packages Beall offers for craft breweries, contract breweries, and brewpubs.
Attendees will also be able to enter a drawing for a mini iPad, and brewery representatives who complete the Beall Brewery Insurance online quote application will receive a $25 Starbucks gift card.
"Attending brewing industry events like the Craft Brewers Conference is among the highlights of our job," says Beall Brewery Insurance principal Richard Beall.
"We are excited to connect with brewing professionals from across the country who are responsible for the craft beer we enjoy—especially knowing that we can offer them the customized coverage they need at a price that will blow them away."
For more than 25 years, Beall Financial and Insurance Services, Inc., has been helping corporations and individuals protect their most important assets. The agency's client base covers a spectrum of niche businesses, such as craft breweries, that require specialized insurance packages and knowledge. With California offices in Redlands and Newport Beach, Beall Financial and Insurance Services serves clients nationwide.
Photo © Brewers Association. Used with permission.